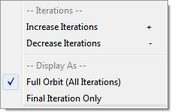 Increase or Decrease Iterations: Increase or decrease the number of times your rule is iterated. You can also use the + or – keys, without opening the Display pop-up menu, to increase or decrease the number of iterations.
When you're creating an iteration using parametric depth, you cannot change the number of iterations by hand.
Display the Full Orbit or Final Iteration Only: Display all iterations, or only the final iteration. When you display all iterations, the set of all images of an iterated object is sometimes called the orbit of that object.
It's often convenient to display all iterations when you're iterating using a single map, and to display only the final iteration when you're iterating using multiple iteration maps.
The Transform | Terminal Point command allows you to construct a final iterated point image as an actual point that you can use in further constructions.