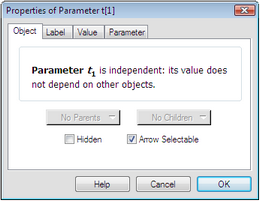 This Edit menu command displays the Properties dialog box and allows you to change a variety of properties of a single selected object.
The keyboard shortcut for Properties is Alt+? (Windows) or

? (Mac).
There are two other ways to view an object's properties.
•Use the Context menu. In Windows, right-click the object. On a Mac, hold down the Ctrl key while you click the object. The Properties command appears in the resulting Context menu (directly under your mouse if possible).
•Use the Information tool. Click the tool on the object, and then click the object's name in the balloon that appears.
The Properties dialog box can include these panels: